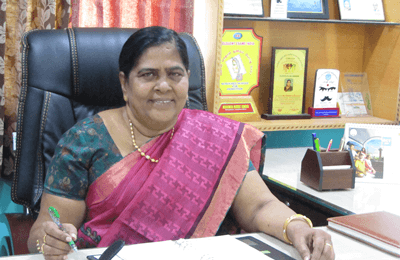 Mrs. Thresia.K.M
My warm Greetings to all my dear viewers,
As the Secretary of Madonna school, with pleasure. I take this opportunity to welcome you to our school website. We hope to provide you with some useful information. We strongly believe that Education will be meaningful only if there is a clear partnership between the child, parent, teacher and the school management. While studying at the school, the students will be groomed to become confident, articulate and enlightened young citizen, ready to step into global society with dignity, honor and integrity.
My best wishes to everyone….
Mrs. Thresia.K.M is the Secretary of Madonna Matric Hr. Sec. School, which commenced its operation on April 1997, at Karamadai. She has various experiences in schools across India over the last 11 yrs. She completed graduate of English from Gujarat University, her B.Ed and her Master degree in English literature thereafter she started her carrier as English Teacher in Khaziabhad district near Delhi. She has been Principal of Madonna Matric. Hr. Sec. School for 22 yrs, She leads the team with expertise in pedagogy training she has a flair for sport, being a sportsperson herself. She is an avid reader and has a passion for writing.